Patient-centered care in physiotherapy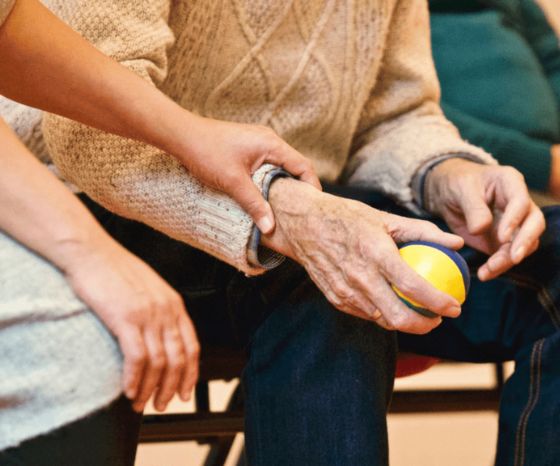 Introduction
Patient-centered care, where the individual patient is put centrally and his or her biopsychosocial and personal factors are considered, is an essential component in the delivery of high quality care. It has been found that often, clinicians experience difficulties in integrating patient-centered care into their clinical practice. This article discusses some key elements to focus on the patient.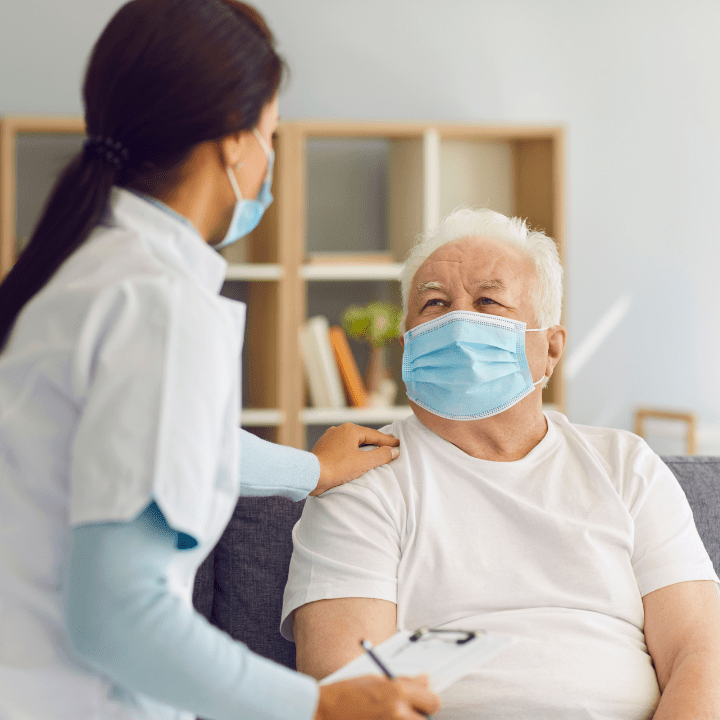 Meaningful connection
To be able to put the patient central, first of all a meaningful connection between both should occur. As a part of the therapeutic relationship, a meaningful connection with mutual respect, open and clear communication and space to express oneself can lead to improved clinical outcomes. As the patient is likely to feel more satisfied, this can increase adherence to therapy.
In a meaningful connection, patients should feel equal to the therapist, as this creates a safe environment to express feelings and concerns related to the musculoskeletal complaint they are experiencing. When you get to know more about your patient, treatment can be tailored to match specific problems and to attain the patient's specific goals. Using their body to explain what you found during assessment, and by using touch to establish a connection or to cue movements in order to increase awareness, the meaningful connection between you and the patient can further be enhanced.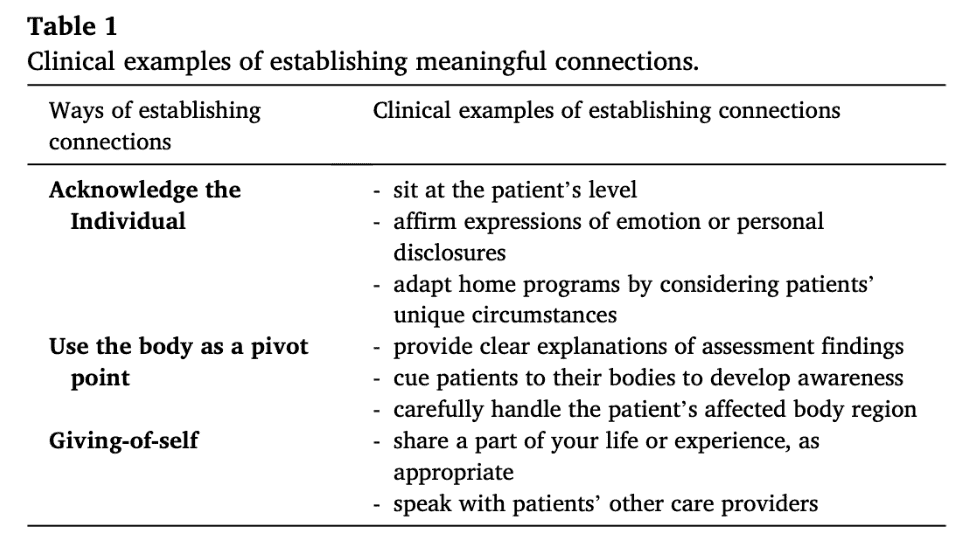 In patient-centered care, it is evident that the patient has the possibility to take part in decision making. Deciding about individual treatment goals can occur on the level of symptoms, but next to this, should also include functional and fundamental goals. Once you have a clear picture of what goals your patient wants to attain, you can think about the treatment options to achieve them. In our previous blog, you can read more about shared decision making in choosing treatment options: https://www.physiotutors.com/shared-decision-making/.
When you put your effort into creating and maintaining a meaningful connection and when you know which goals your patient wants to attain, another important part of patient-centered care lies in providing support to self-manage the condition. By enabling and coaching him to actively take up a role in his rehab, you empower him to influence his complaints without assistance. Let your patient re-take up his role in his valued activities. This may be gradually, based on the individual sitting in front of you, but should always target unhelpful cognitions and beliefs, barriers to recovery and lifestyle factors. Here, education is crucial, because by increasing understanding, a patient may be a better adherer and more inclined to actively take up his rehabilitation. And education doesn't have to be you talking all the time! You can also make use of short written notes, using other patient's stories or learning aids. Even through exercise, where you may let your patient perform some movements, you can increase his understanding. A top tip may be to ask your patients some key "take home messages" every session.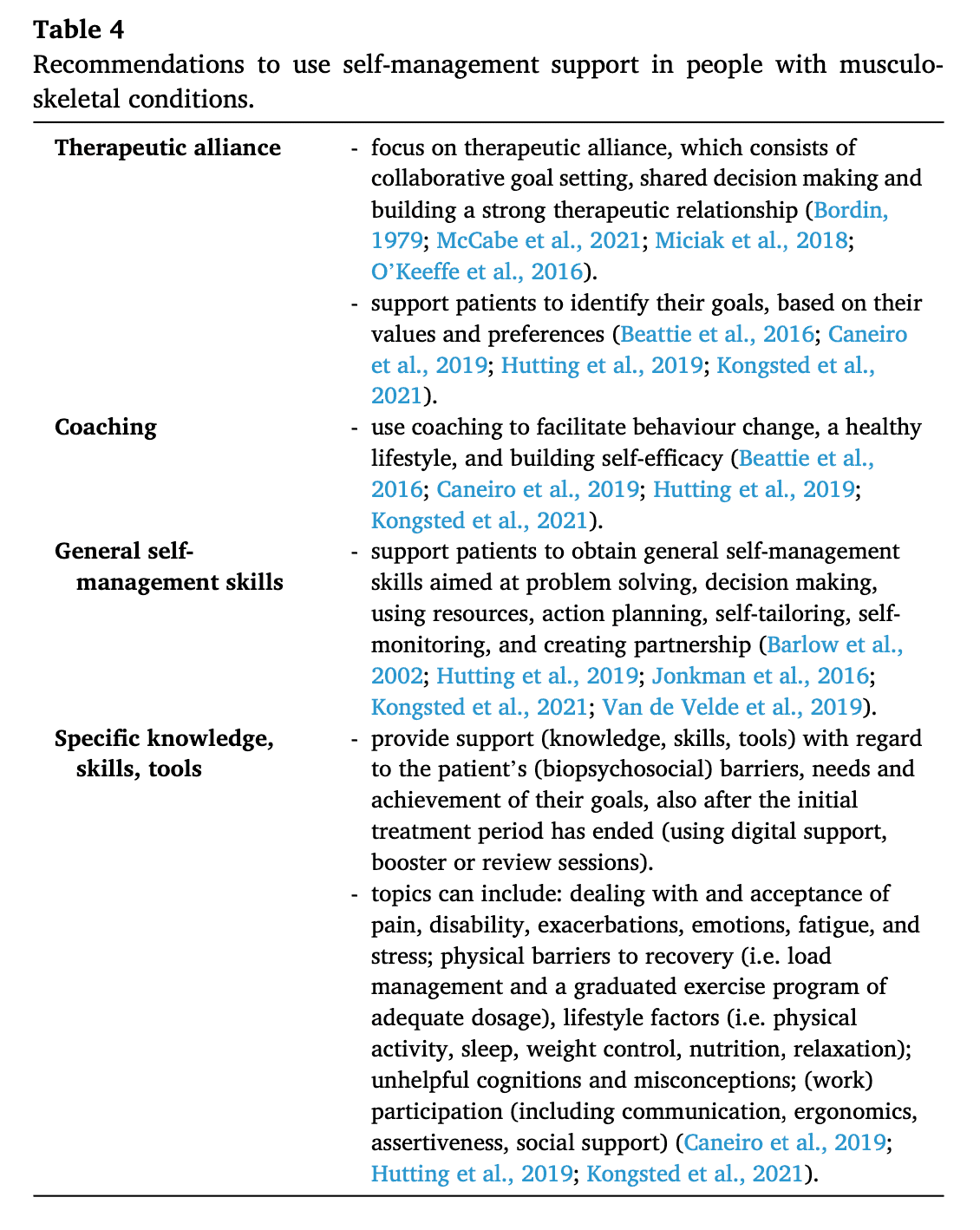 Implementation
How can we now exercise patient-centered care into our daily routine? I am sure that, without knowing, before you read this blog post, you were already doing a great job. As you know, communication is a very important aspect of our profession and in patient-centered care, how and what you communicate is of utmost importance. It already begins when your patient is entering the room and during the history taking. I know sometimes we are in a hurry as time per patient is limited and there is lots to explain and talk about. But being open minded and by being an active listener you will get the most out of your clinical encounter. Try opening up your view by looking away from your monitor and increasing eye contact. You will definitely capture more non-verbal cues than you would think.
Online Course
CENTRAL SENSITIZATION IN PATIENTS WITH PERSISTENT PAIN: FROM THE LAB TO THE CLINIC
Learn to Provide the Best Evidence-based Care to Help Patients with Chronic Pain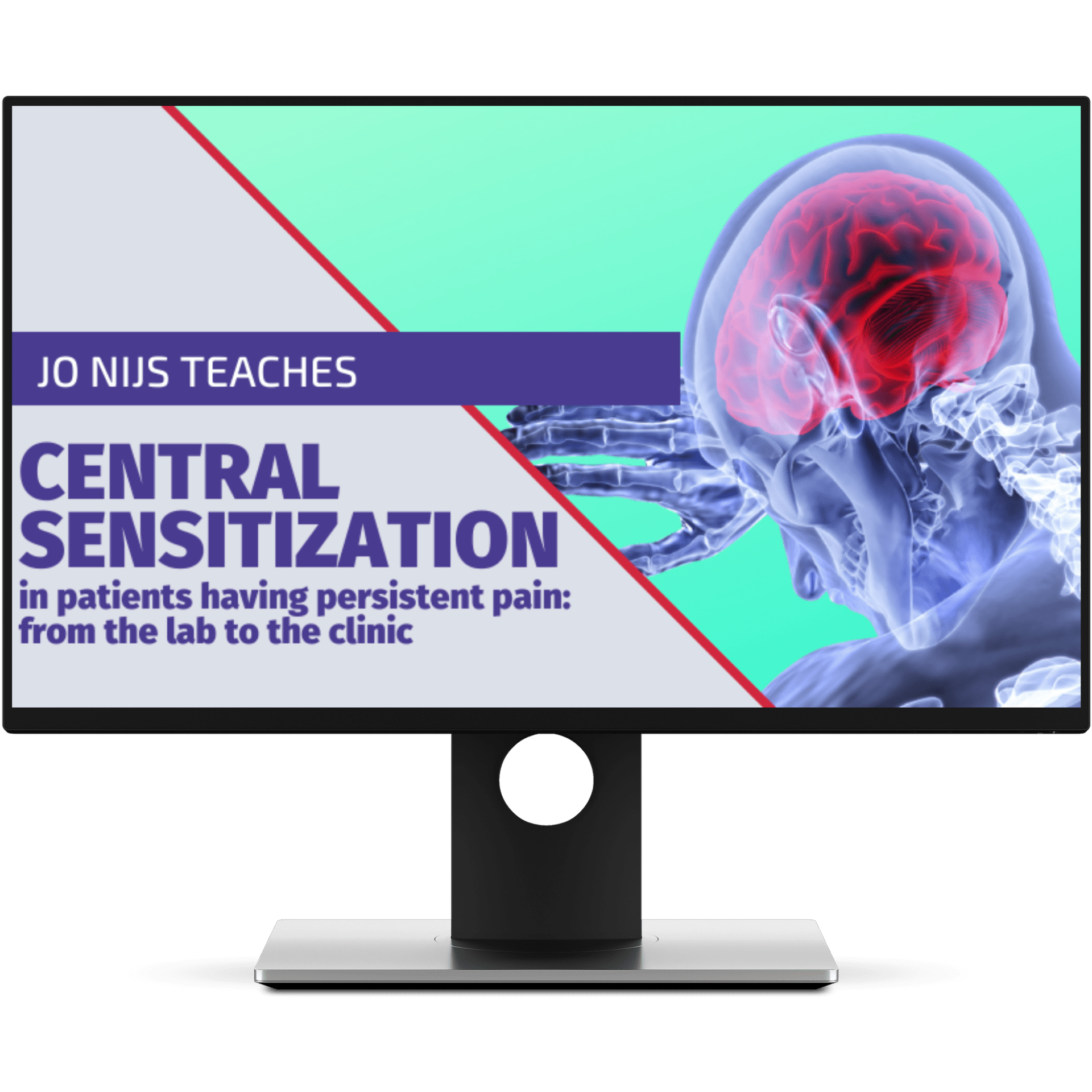 During therapy, the same principles are to be born in mind. Very important in this encounter, is that you take your time to explain why you do something or give certain exercises. Your patient is certainly interested and will appreciate it if he finds out you give him a personalized exercise program targeted to deal with his personal contributing factors in the context of his condition, instead of a generic one.
The implementation of patient-centered care in clinical encounters can further be enhanced by screening for biopsychosocial drivers of pain and disability. These are then to be targeted during rehabilitation. Next to communicating openly, by reflective questioning you may get to know more about contributing factors. Ask your patient to tell his story and get to know his expectations, without interrupting him halfway through. Other open questions may include:
What do you think is causing your pain? (Causation beliefs)
What do you do when pain increases? (Coping)
How are your symptoms affecting your ability to engage with physical and functional activities? (Impact)
Are you worried? (Concerns)
Why do you think this movement/activity is harmful? (Beliefs regarding engagement in activities)
Tell me about your home/work/social life. (Social factors)
Tell me about your goals and expectations
Communication that privileges the patient's narrative results in patient-centred care and effective shared decision-making about potential risks and benefits of various interventions.
It is by communicating that you really get to know your patient.
I hope you enjoyed this read!
Ellen
Reference
Hutting N, Caneiro JP, Ong'wen OM, Miciak M, Roberts L. Patient-centered care in musculoskeletal practice: Key elements to support clinicians to focus on the person. Musculoskelet Sci Pract. 2022 Feb;57:102434. doi: 10.1016/j.msksp.2021.102434. Epub 2021 Aug 5. PMID: 34376367. https://pubmed.ncbi.nlm.nih.gov/34376367/