September 15, 2022
| 5 min read
Why dermatome maps may still be useful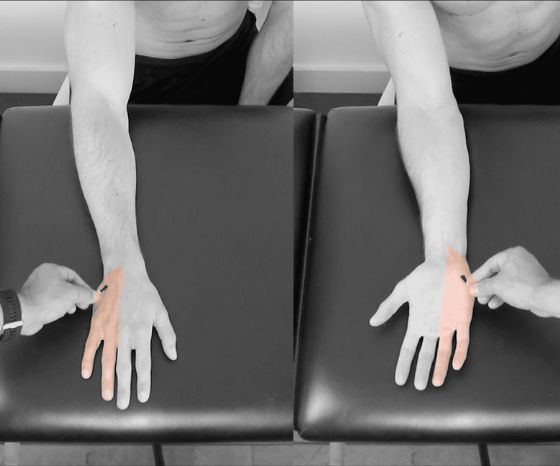 Introduction
This blog post explains why dermatome maps may still be useful. You may have asked yourself whether they are. Recently published studies showed that radicular pain does not follow the typical referral pattern as indicated on typical dermatome maps we all learned at school. In fact, there is not even an agreement between MRI and the physician's judgment of the level of the involved nerve root based on a pain map. If you want to read in more detail about this, I refer you to our research review which discusses the study findings from Marco et al. (2022). Briefly spoken, no agreement was found between clinicians' determined radiculopathy level based on radicular pain drawings and MRI findings, inter-rater agreement ranged from fair to moderate and overlap of pain distributions was evident. Only a little side note, these participants were all scheduled to have surgery and likely represent a population with more severe symptoms. The possibility that central sensitization amplified and expanded the region of the pain sensations existed.
Over the years in literature, many different authors created their dermatome maps based on cadaver, animal or human experiments. These began in the late 19th and early 20th century. As you can see in the figure below, adopted from Lee et al., the established dermatome maps are inconsistent. Which map should you use? Which map should we refer to when communicating with other clinicians, who may have studied another dermatome map? As you certainly understand, these different dermatome maps may lead to miscommunication and uncertainty. This blog article discusses why the use of these dermatome maps may still be useful. Curious? Read on!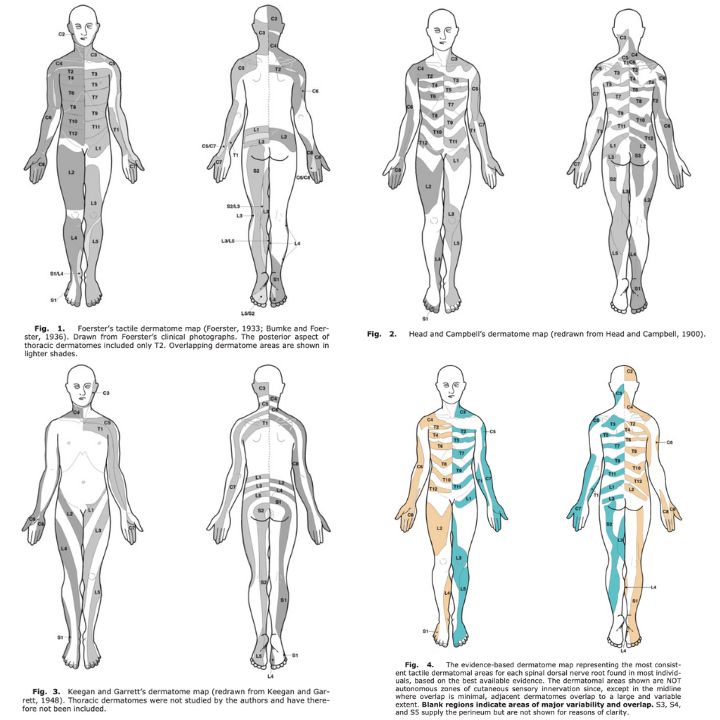 Why should I even use a dermatome map?
It is an important tool for identifying the location of a neurological injury. It can help differentiate between a peripheral or central injury.
As certain areas are delineated, it can help standarding the way of communicating pain or altered sensations.
It can assist you in evaluating the psychosocial health of your patient. An association between psychological features and the extent of pain exists. This was already seen in studies on whiplash associated disorders, neck pain and osteoarthritis, where larger pain areas correlated with poorer psychological health.
Online Course
Orthopedic Physiotherapy of the Spine
Become confident in screening, assessing and treating the most common pathologies in the cervical, thoracic and lumbar spine based on the very latest evidence from 440 research articles.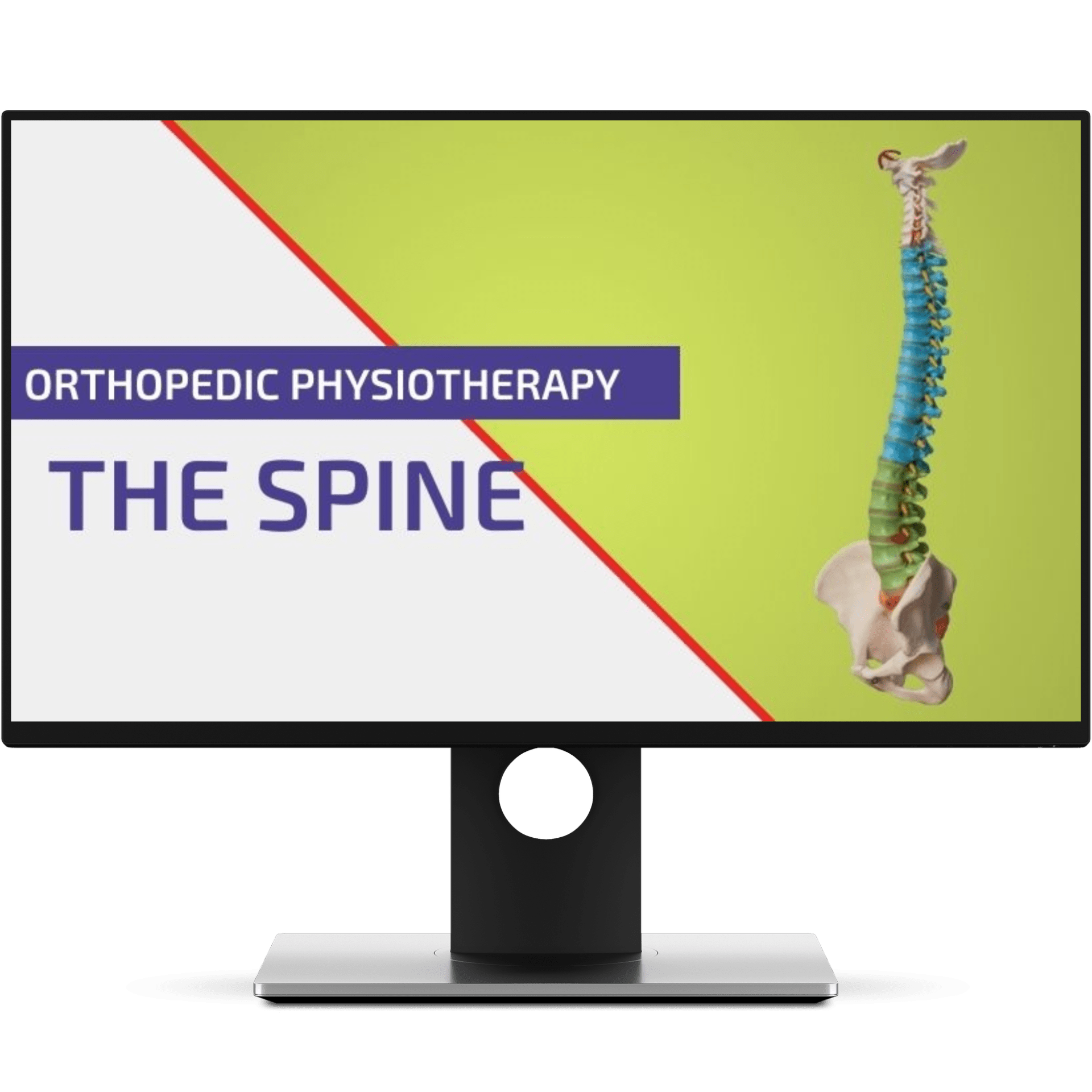 Tips and tricks for using dermatome maps in practice
Okay, so we learned that in fact dermatome maps aren't consistent. But you may find it useful to include it in practice, in light of the statements above. If you do, I recommend you to think about the following practical tips.
Use only one map, and use the same one every time. This way, you can increase consistency in your reporting.
Be aware of the fact that dermatomes may overlap and aren't always clearly delineated.
Keep in mind that the level you've defined to be involved based on the dermatome map, may not be the one that is positive for a nerve root injury on MRI (or through other means like a nerve block, for example). Keep your mind open.
When communicating with other healthcare professionals, be sure to include the dermatome map you've used to establish your findings.
Accept uncertainty in your diagnosis and decision making.
I hope you enjoyed this read!
Ellen
Learn more
Read: http://physiotutors.com/research/radicular-pain-drawings-and-mri-finding
Watch:
References
Marco B, Evans D, Symonds N, Peolsson A, Coppieters MW, Jull G, Löfgren H, Zsigmond P, Falla D. Determining the level of cervical radiculopathy: Agreement between visual inspection of pain drawings and magnetic resonance imaging. Pain Pract. 2022 Jun 28. doi: 10.1111/papr.13147. Epub ahead of print. PMID: 35765137. https://pubmed.ncbi.nlm.nih.gov/35765137/
Murphy DR, Hurwitz EL, Gerrard JK, Clary R. Pain patterns and descriptions in patients with radicular pain: does the pain necessarily follow a specific dermatome? Chiropr Osteopat. 2009 Sep 21;17:9. doi: 10.1186/1746-1340-17-9. PMID: 19772560; PMCID: PMC2753622. https://pubmed.ncbi.nlm.nih.gov/19772560/
Downs MB, Laporte C. Conflicting dermatome maps: educational and clinical implications. J Orthop Sports Phys Ther. 2011 Jun;41(6):427-34. doi: 10.2519/jospt.2011.3506. Epub 2011 May 31. PMID: 21628826. https://pubmed.ncbi.nlm.nih.gov/21628826/
Lee MW, McPhee RW, Stringer MD. An evidence-based approach to human dermatomes. Clin Anat. 2008 Jul;21(5):363-73. doi: 10.1002/ca.20636. PMID: 18470936. https://pubmed.ncbi.nlm.nih.gov/18470936/
Falla D, Peolsson A, Peterson G, Ludvigsson ML, Soldini E, Schneebeli A, et al. Perceived pain extent is associated with disability, depression and self-efficacy in individuals with whiplash-associated disorders. Eur J Pain. 2016;20(9):1490–501. https://doi.org/10.1002/ejp.873
Ris I, Barbero M, Falla D, Larsen MH, Kraft MN, Søgaard K, et al. Pain extent is more strongly associated with disability, psychological factors, and neck muscle function in people with non-traumatic versus traumatic chronic neck pain: a cross sectional study. Eur J Phys Rehabil Med. 2019;55(1):71–8. https://doi.org/10.23736/S1973-9087.18.04977-8
Willett MJ, Siebertz M, Petzke F, Erlenwein J, Rushton A, Soldini E, et al. The extent of pain is associated with signs of central sensitization in patients with hip osteoarthritis. Pain Pract. 2020;20(3):277–88. https://doi.org/10.1111/papr.12851