Martin et al. 2021
Hip Arthroscopy Versus Physiotherapy for Symptomatic Acetabular Labral Tears in Patients Older Than 40 Years
In patients with symptomatic acetabular labral tears above 40 years, surgery is a viable treatment option.
Before surgery, patients participated in a physiotherapy program, which may have potentially influenced surgery outcomes
Three months of conservative treatment to determine whether symptoms improve is possibly too short.
Introduction
Arthroscopic labral repair was found superior to conservative care in two earlier multicenter RCTs but these studies focused on younger patients. For older individuals with symptomatic acetabular labral tears, it is uncertain which treatment option is preferred. On top of that, older individuals often show some signs of hip osteoarthritis, which can negatively affect outcomes after hip arthroscopy. Therefore it is unclear whether older individuals may benefit from arthroscopic labral repair. This study focused on patients with symptomatic labral tears older than 40 years.
Methods
A single-center RCT was conducted, including patients with symptomatic labral tears as confirmed by MRI. Before randomization, all participants completed 3 months of conservative care, consisting of corticosteroid injection and at least 8 weeks of supervised core-based physiotherapy including a home-exercise program. In case no improvement was seen after these three months, patients were randomized into this trial. 
All the arthroscopic procedures were standardized and performed by one surgeon. The postoperative protocol was developed jointly by the surgeon and physiotherapists. The physiotherapy protocol for the participants randomized to receive conservative care consisted of a 24-week supervised exercise program aiming to normalize gait and optimize range of motion, while slowly integrating strength training.
The outcomes of this study were the International Hip Outcome Tool (iHOT-33) and the modified Harris Hip Score (mHHS) at 12 months after randomization. Secondary outcomes were the Hip Outcome Score Activity of Daily Living and Sport Subscale (HOS-ADL and HOS-SSS), Nonarthritic Hip Score, Lower Extremity Function Score, and visual analog scale pain score. These outcomes were collected at baseline and 3, 6, and 12 months after randomization.
Results
Ninety patients were included and 81 of them were followed for 12 months. Their ages ranged between 40 and 67 years. The arthroscopy group consisted of 42 participants and 39 received physiotherapy alone. High crossover occurred with 28 patients shifting towards arthroscopy, after a mean of 190 days.
The intention-to-treat analysis revealed that arthroscopy resulted in significantly higher mean overall iHOT-33 and mHHS scores across the treatment period compared to physiotherapy alone. The sensitivity analyses confirmed the findings from the intention-to-treat analysis.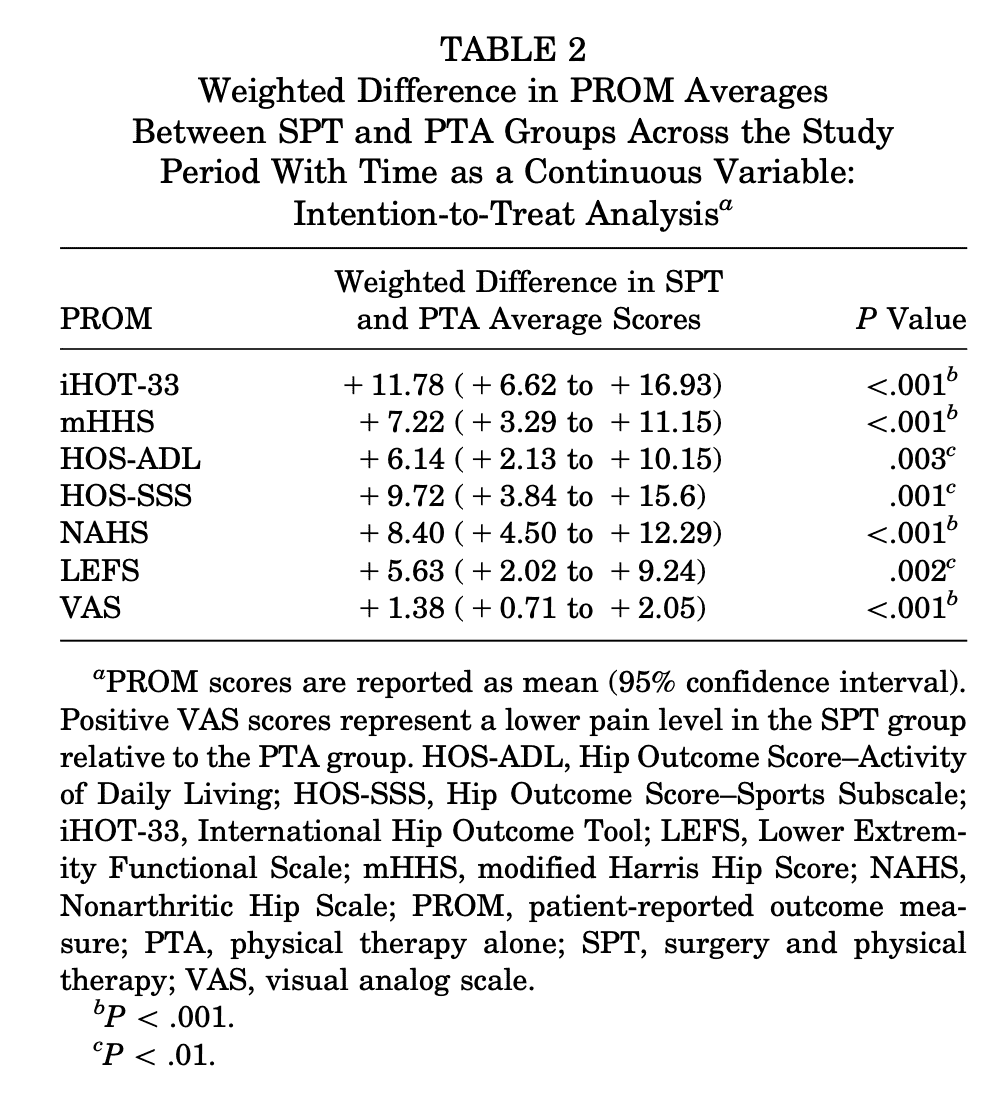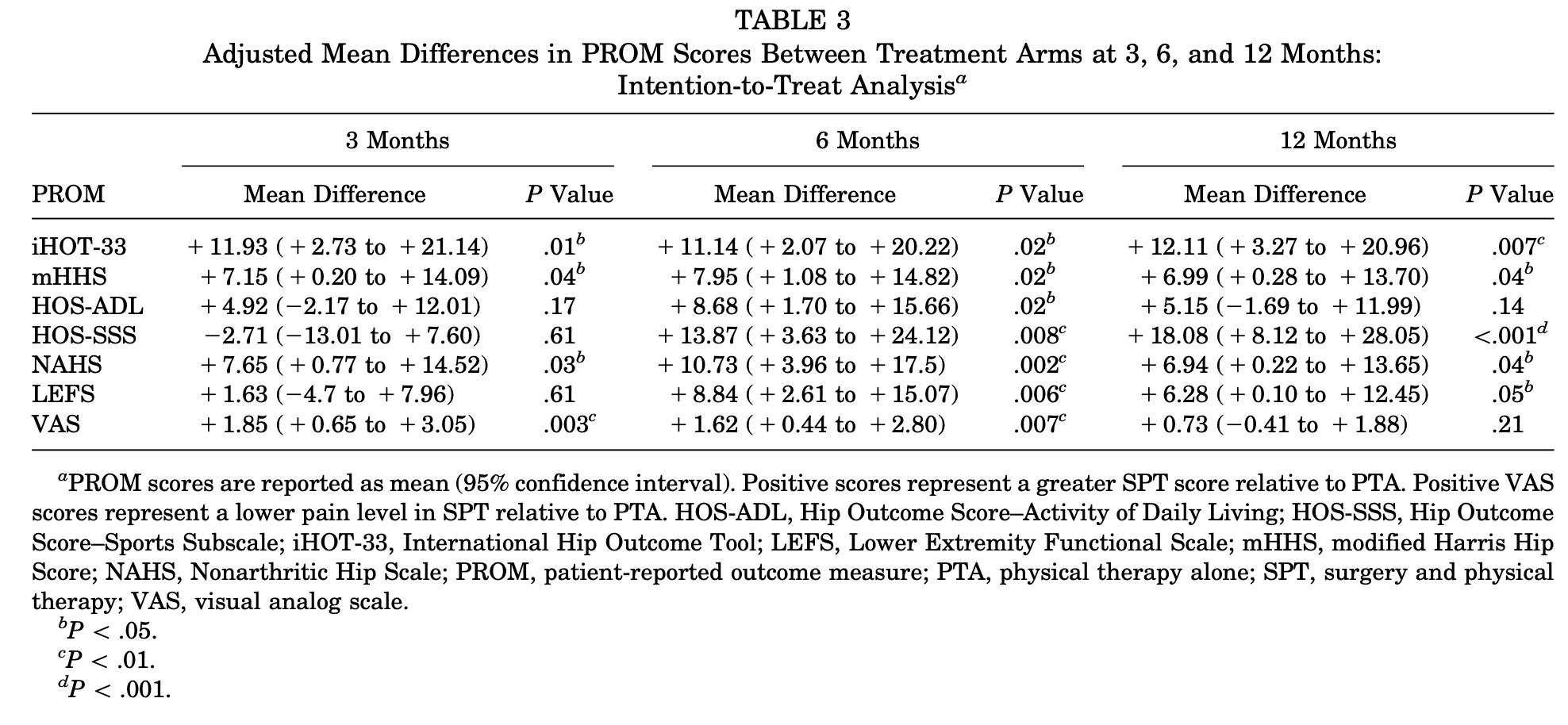 Questions and thoughts
Crossover was allowed only if patients had completed at least 14 weeks of physiotherapy and when the treating physiotherapist determined that patients had achieved maximal possible improvement from physiotherapy alone. Allowing subjects to crossover can be an option to prevent patients from resigning from the study. However, this may endanger conclusions by invalidating the study. The authors however tried to deal with this by performing several sensitivity analyses (as-treated analysis, treatment-failure analysis) next to the intention-to-treat analysis. The as-treated analysis implied that the participants were analysed as they were treated and that scores from subjects before crossover were attributed to the physiotherapy group and after crossover, scores were assigned to the surgery group. The treatment-failure analysis extrapolated the scores before crossover as the 12-month scores. 
All participants completed a 3-month conservative program before randomization. It would have been interesting to know whether this influenced the outcomes. Led this to an enlargement of the effect of arthroscopy and should we advise patients to enroll in an intensive preoperative physiotherapy program? 
When taking a closer look at the results, we can see that although the arthroscopy group outperformed the physiotherapy group, several participants not crossing over and receiving physiotherapy also improved considerably. This, along with the fact that a "failure" of at least 3 months of nonoperative treatment was required prior to inclusion in the study and randomization, may mean that some patients may need to spend more time in physical therapy than the 3 months required here, before improvements can be expected. Unfortunately, this trial was underpowered to examine predictive factors for success with nonoperative treatment, so this remains unclear. 
Talk nerdy to me
The study was very well designed and took into account several factors that are often missed in RCTs, such as the problem of dealing with subjects crossing over, clearly explaining protocol deviations. Decisions were well made and their impact was appropriately considered. For example, the 12-month outcome may seem very short. However, the authors argued, using evidence, that they expected crossover of subjects. A lengthy endpoint may have resulted in high crossover, which imposes the risk of finding type two errors. They chose a "primary endpoint long enough to be clinically informative but short enough to encourage patients to remain in their assigned treatment arm… and providing time for full rehabilitation"
Results showed that postoperative improvements in PROMs in patients with limited radiographic osteoarthritis were significantly higher compared to patients with higher Tönnis grades (and thus more signs of radiographic osteoarthritis). This seems to indicate that early surgical intervention can lead to better outcomes in individuals over 40 years of age. Yet this was not the primary objective of this study and the study was not powered to explore this. Therefore, this cannot be assumed from the present study.
Take home messages
Arthroscopy can be considered as a treatment option in patients with symptomatic acetabular labral tears aged 40 years and older. Even in those with signs of osteoarthritis, surgery can lead to good outcomes. This trial used preoperative physiotherapy before randomizing patients, so this may have influenced the outcomes of arthroscopy. Some patients "failing" 3 months of conservative treatment, including corticosteroid injections and physiotherapy who were randomized to the physiotherapy group showed remarkable improvements, which may mean that 3 months of conservative care before progressing to arthroscopy may be too short.
Reference
Martin SD, Abraham PF, et al. Hip Arthroscopy Versus Physical Therapy for the Treatment of Symptomatic Acetabular Labral Tears in Patients Older Than 40 Years: A Randomized Controlled Trial. Am J Sports Med. 2021 Apr;49(5):1199-1208. doi: 10.1177/0363546521990789. https://pubmed.ncbi.nlm.nih.gov/33656950/
FREE WEBINAR ON HIP PAIN IN RUNNERS
LEVEL UP YOUR DIFFERENTIAL DIAGNOSIS IN RUNNING RELATED HIP PAIN - FOR FREE!
Don't run the risk of missing out on potential red flags or ending up treating runners based on a wrong diagnosis! This webinar will prevent you to commit the same mistakes many therapists fall victim to!