Daher et al., (2020)
The added benefit of aerobic exercise to neck strengthening for relieving neck pain
This RCT compared aerobic exercise to neck strengthening in people with nonspecific neck pain
The Global Rating of Change scale was used to measure treatment success
At 6 weeks, no difference in treatment success was observed, however, after 6 months, the aerobic exercise group had almost double the participants reporting treatment success
Introduction
Strengthening the neck muscles is what's often prescribed for people suffering neck pain. More evidence points to the benefit of engaging in aerobic exercise like walking and cycling. Some recent reviews found evidence that the addition of aerobic exercise to neck strengthening exercise was associated with improvements in strength, function, and pain in chronic neck pain. To directly compare both, this RCT tried to answer whether adding aerobic exercise to neck strengthening led to better outcomes than the latter alone.
Methods
In this RCT, participants were randomly assigned to perform neck strengthening exercises (control) or to the intervention group performing the addition of aerobic exercise to neck strengthening. It was a double-blind study as both patients and assessors were blinded, although the physiotherapists giving the exercise program were not.
Patients could be included in the study when they presented with nonspecific neck pain that had been lasting for at least 4 weeks. Both people with neck pain with and without referred pain could be included. They had to have at least mild functional disabilities, representing a minimum score of 10/50 on the Neck Disability Index (NDI) questionnaire. Further, the population was sedentary since one of the requirements to participate was reporting no leisure-time physical activity. This was determined by answering "No" to the following question: "Did you undertake any physical activity during your leisure time that made you breathe harder for at least ⩾2 days/week?"
The participants were randomly assigned to the intervention group where aerobic exercises were added to neck strengthening exercise or to the control group which only participated in the latter. The intervention and control groups both had 2 supervised sessions of stretching and resistance exercises per week for 6 weeks. These exercises were performed using elastic resistance bands and are depicted hereunder.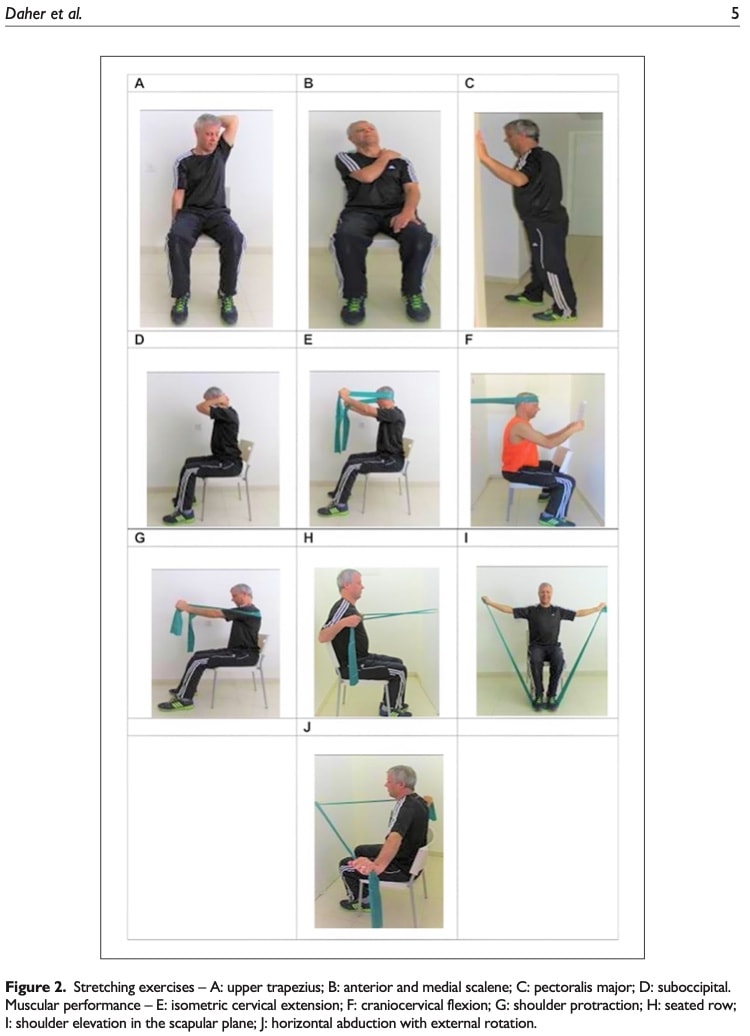 Everyone started the program with the easiest resistance band and progressions were made once 30 consecutive repetitions with a 3-second hold at the end range of movement were possible. These exercises were supplemented with 2 days per week of home exercises.
In the intervention group, an aerobic cycling program was performed after the strengthening exercises. This was at moderate intensity, determined by cycling at 60% of the age-predicted maximum heart rate. In the first week, 20 minutes of cycling took place and this increased to 30 minutes in the second week and 45 minutes during the third week and the remaining weeks. Only the participants in the intervention group participated in an additional 2 days per week of walking or cycling at home.
At the end of every supervised exercise session, participants received a 5-minute light-pressure massage. This was to ensure adherence and to limit the possible dropouts to a minimum.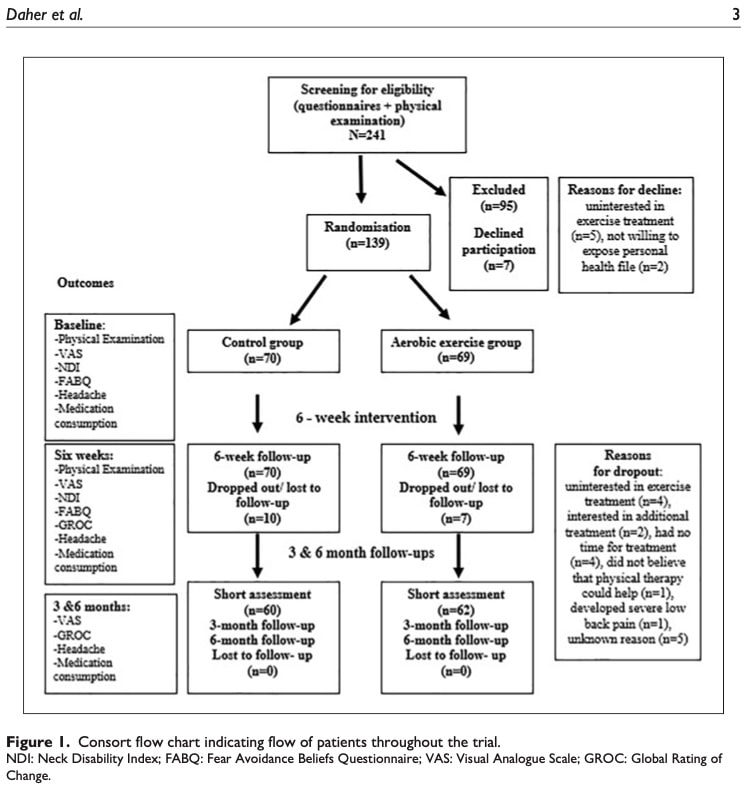 The measurements were done at the start of the study, and at the end of the training period (6 weeks). A follow-up measurement took place after 6 months. The primary outcome measure was the Global Rating of Change (GROC). This scale ranged from -7 (representing 'a very great deal worse') to 0 ('about the same') to +7 ('a very great deal better'). Scores of +4 and +5 indicate moderate changes in patient-perceived status and scores of +6 and +7 indicate greater changes in patient status. The Minimal Clinically Important Differences for the Global Rating of Change were reported as a 3-point change from baseline. Successful outcome of treatment was considered when a GROC of at least +5 was achieved.
Pain intensity measured with the Visual Analogue Scale (VAS) was the second outcome measure of interest. Other measurements were the NDI, the Fear-Avoidance Beliefs Questionnaire (FABQ), the presence of referred pain to the upper neck and/or head, medication consumption, and clinical outcomes such as ROM, posture, Spurling, segmental mobility, muscle length testing, etc.
Results
139 participants were included in the study and comparable groups at baseline were achieved. They had on average 226 days of neck pain.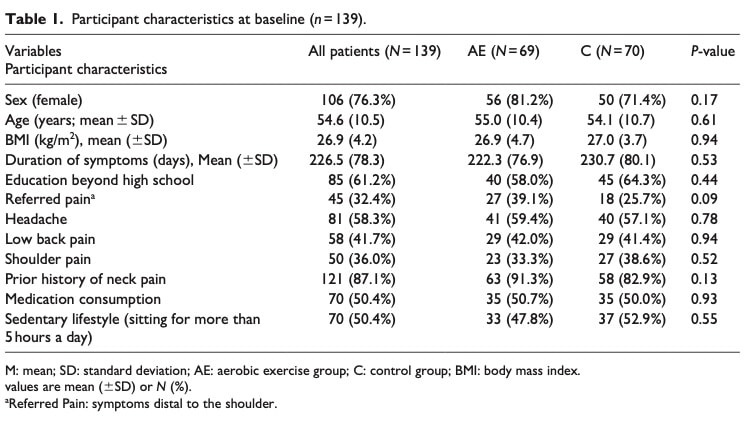 The primary outcome analysis revealed that adding aerobic exercise to neck strengthening led to 77 percent of people reporting treatment success versus 40% in the control group at 6 months. However, no significant differences between both groups were seen after 6 weeks.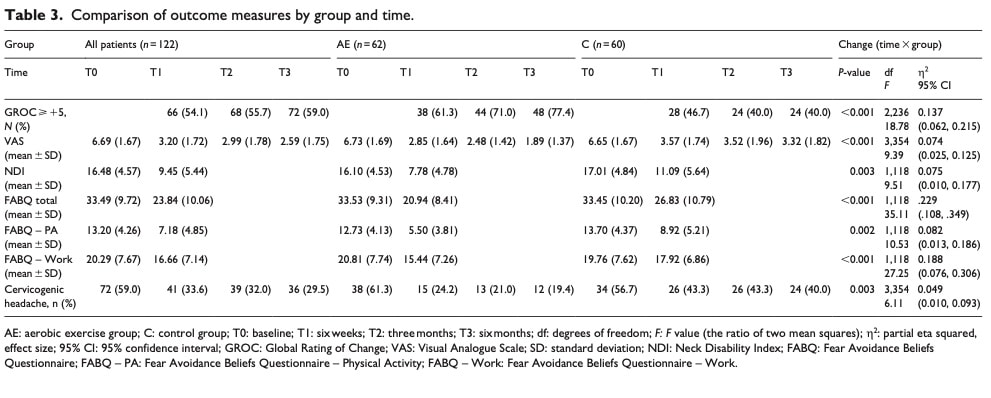 Reductions in VAS pain intensity at 6 weeks were observed in both groups, while it was only significant in the intervention group. It continued, however, to decrease at the 3-month and 6-month follow-up for the intervention group only.
Questions and thoughts
This study revealed that adding aerobic exercise training to regular strengthening for neck pain did not result in significant differences in patient's perceived level of treatment success. Yet, at 6 months, this difference was apparent. A pretty uncommon finding was to have no group difference at the end of a trial but yet see a significant difference 6 months after the termination of the study. The participants in both groups were encouraged to keep up their training sessions 3 times per week at home and in the intervention group they were also told to keep participating in 3x/w 30-minute of aerobic exercise. Was it the improvement of general fitness that led to the significant difference in treatment success at 6 months?
Only forty percent of participants who received neck strengthening exercises improved. This does not inspire much confidence in performing strength exercises. It appears that adding aerobic exercise to neck strengthening was essential to obtain good results. In addition, a significant positive correlation was observed between successful outcomes and the duration of the aerobic exercise; the longer the higher the chances of achieving a successful outcome. It may be that this means that not everyone is a responder to strength training. Or it could be that this was the result of an increase in general fitness.
Interestingly, In addition, a reduction in pain intensity was observed immediately after the completion of the initial intervention in both groups. Interestingly, during the long-term follow-up, pain intensity decreased again, but only in the aerobic exercise group.
Secondary outcome measures supported the findings of the primary analysis. Eye-catching was the large drop in medication use. Before trial commencement, half of the sample used pain medications, whereas only 3% continued to take painkillers after 6 months. Of course, we cannot say whether they stopped taking it because of the good outcomes, or if it wasn't just prescribed to them anymore. Nonetheless, this study seems to have achieved a very good outcome for a large bunch of people.
Talk nerdy to me
The power calculation showed that 40 people were needed per group. The study included 70 participants per group. That is almost double the required sample size. This will have reduced the margin of error. The increase in sample size also makes it easier to find significant findings. Here it remains critical to look at the minimally clinically important difference as this allows you to distinguish between important and unimportant clinical outcomes, rather than on the basis of significance.
The study lacked a true control group performing only aerobic exercise. Yet, they included participants who had neck pain for an average of 222 days. This may be important to investigate whether people with more longstanding neck pain would benefit more from an aerobic program than individuals with acute onset pain.
Take home messages
The addition of aerobic exercise to neck strengthening appeared to be beneficial for decreasing the level of pain compared to only strengthening. At the same time, it resulted in almost double the number of participants reporting a successful outcome of treatment at 6 months, but not at 6 weeks. Adding aerobic exercise training is relevant for long-term effects in people with nonspecific neck pain.
Reference
Daher A, Carel RS, Tzipi K, Esther H, Dar G. The effectiveness of an aerobic exercise training on patients with neck pain during a short- and long-term follow-up: a prospective double-blind randomized controlled trial. Clin Rehabil. 2020 May;34(5):617-629. doi: 10.1177/0269215520912000. Epub 2020 Mar 17. PMID: 32183555.