Berg et al 2021
Better knee function in 9 in 10 people 2 years after treatment
9 in every 10 participants improved at least gradually over two years after a degenerative meniscus tear.
Higher BMI, anxiety, depression, poor knee function and poor performance increase the risk of minimal improvement over five years.
Weak quadriceps and hamstring strength and functional performance are modifiable prognostic factors.
Introduction
The prevalence of degenerative meniscal tears is relatively high, ranging from 19-56%. Oftentimes degenerative meniscus tears become symptomatic, limiting functioning in daily activities. To improve patient education and clinical decision making, and to estimate prognosis and identify potential targets for early interventions, the identification of expected trajectories of improvement is important. Therefore, this study examined the trajectory of knee function in degenerative meniscal tears over five years. 
Methods
A secondary exploratory analysis of the OMEX trial (Odense Oslo Meniscectomy versus Exercise) was conducted. The study included patients with MRI-verified degenerative medial meniscus tears between 35-60 years. The interventions of the original RCT were a 12-week, two to three times per week exercise therapy program consisting of strengthening and neuromuscular exercises or arthroscopic partial meniscectomy with instructions for simple home exercises aimed at improving knee range of motion and reducing swelling. As the OMEX trial showed no differences regarding the change in patient-reported outcomes between the arthroscopic partial meniscectomy and exercise group, the data from both groups were pooled.
The outcomes for this secondary analysis was patient-reported knee function and was assessed using the Knee Injury and Osteoarthritis Outcome Score (KOOS) at baseline, 3, 12, 24 months and 5 years. The KOOS questionnaire consists of the following subscales: pain, other symptoms, activities of daily living (ADL), sport and recreational function (sport/rec) and knee-related quality of life (QOL), each scored from 0 (worst) to 100 (best). For all the KOOS subscales, trajectory analyses were conducted to provide information about the course of limitations and improvements in patient-reported knee function over five years.
Further, given the relevance of function in sport and recreational activities in this patient population, potential prognostic factors for the KOOS sport/rec subscale were explored and categorized into demographic, knee function-related factors and disease-related factors. 
Demographic factors included gender, age, body mass index (BMI), levels of anxiety and depression (assessed by the Hospital Anxiety and Depression Scale)

Knee function-related factors assessed were the Global Rating Scale of Perceived Function (0-100, worst to best), knee pain (KOOS pain), quadriceps and hamstrings muscle strength (peak torque, normalized for body weight). Lower extremity performance was assessed by three single-leg tests: one-leg hop for distance, 6-meter timed hop and the maximum numbers of knee bends in 30s. Current (last 6 months before inclusion) and previous (before meniscal injury) participation in sport and exercise and total numbers of hours per week were included as physical activity measures. Physical activity was categorized based on the WHO recommendations for weekly amount of moderate to vigorous physical activity, using the cut-off of 150 minutes/week. 

Disease-related factors included the meniscus tear patterns and extrusion as assessed by MRI.
Results
Three trajectories for patient-reported knee function in degenerative meniscal tears were identified. 10-12% of the participants had low, minimal improvements, 20-36% went through with moderate, gradual improvements and 53-70% achieved high, early improvements. The different KOOS subscales were generally characterized by similar change patterns.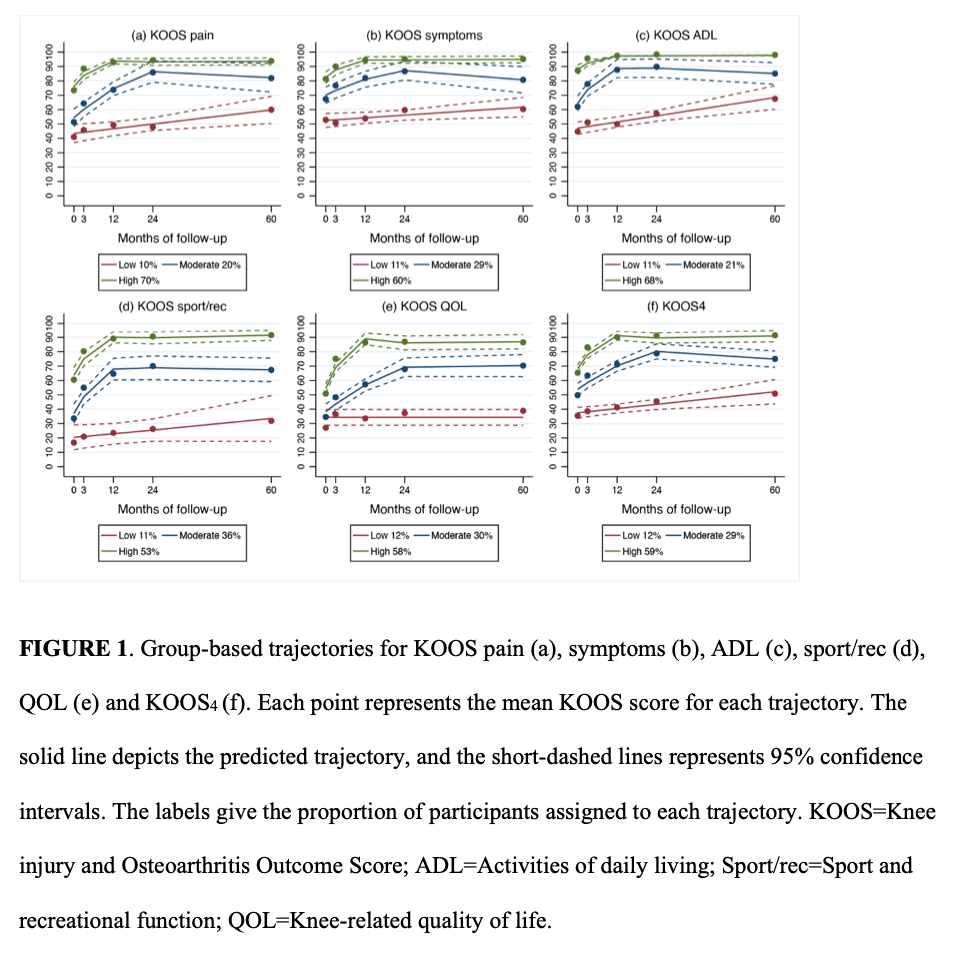 Over the five-year period, the patients in the low trajectory experienced some improvements, particularly for KOOS pain and ADL (19.5 and 23.7 points better), whereas the improvements were lower for KOOS symptoms, sport/rec, QOL. The moderate trajectory improved better for all subscales (between 24.0 and 37.1 points), except for KOOS symptoms (12 points). The improvements in the high trajectory from baseline to 5 years were somewhat smaller, but the five-year KOOS scores were close to or above 90 points for all subscales. 
Baseline characteristics and association with KOOS sport/rec trajectories
Considering the demographic factors, higher BMI, anxiety and depression symptoms increased the risk for being in the low, minimal improvement trajectory. Compared to the high, early improvement group, higher BMI, and anxiety and depression symptoms were also found in the moderate, gradual improvement group. 
For knee-related function all factors except physical activity were significantly associated with the low, minimal improvement group. With the high, early improvement group as reference, the low, minimal improvement group had greater knee pain, poorer perceived knee function, weaker muscle strength of the hamstrings and quadriceps and worse performance on all functional tests. The moderate, gradual improvement trajectory had the same baseline characteristics as the low, minimal improvement group except for performance where only the one-leg hop for distance and the 6-m timed hop test were associated.
Considering the disease-related factors, meniscus extrusion and radiographic signs of knee OA were significantly associated with belonging to the low trajectory.  
Questions and thoughts
No differences were found between the exercise intervention and arthroscopy group of the original OMEX trial, suggesting exercise should be the preferred intervention in patients between 35 and 60 years with degenerative meniscal tears. 
When observing figure 1, it seems that no regression to the mean took place. Normally you'd expect that patients with worse scores improve a lot better than patients with higher scores. This again reinforces the finding of the three distinct trajectories for improvement. 
Talk nerdy to me
The RCT upon which this secondary analysis was based was registered a priori. The authors adhered to the STROBE guidelines to systematically report their analyses. Potential prognostic factors were based on literature. Sample size was based on the primary endpoint at two years in the OMEX trial. As no differences were observed between the arthroscopy and exercise group from the OMEX trial, data was pooled to increase precision and statistical power. 
The authors investigated the fit of the model and a good model fit was demonstrated. Two sensitivity analyses were conducted and the shape of the trajectories remained largely unchanged.  
Take home messages
The majority of patients with degenerative meniscal tears will experience early improvements after 12 months where pain and knee function approaches the normative data for individuals without knee pain. Patients can achieve clinically relevant improvements up to 24 months. It is important to timely identify those not responding to treatment. Specific prognostic factors for poor function in sport and recreational activities were identified to be higher BMI, anxiety and depression, greater knee pain, poor perceived knee function, weaker quadriceps and hamstrings, worse performance, more meniscus extrusion and radiographic signs of knee OA.
Link to the paper: https://pubmed.ncbi.nlm.nih.gov/33971735/
MOST PHYSIOS ARE NOT CONFIDENT IN RTS REHAB
LEARN TO OPTIMIZE REHAB & RTS DECISION MAKING AFTER ACL RECONSTRUCTION
Sign up for this FREE webinar and top leading expert in ACL rehab Bart Dingenen will show you exactly how you can do better in ACL rehab and return to sport decision making