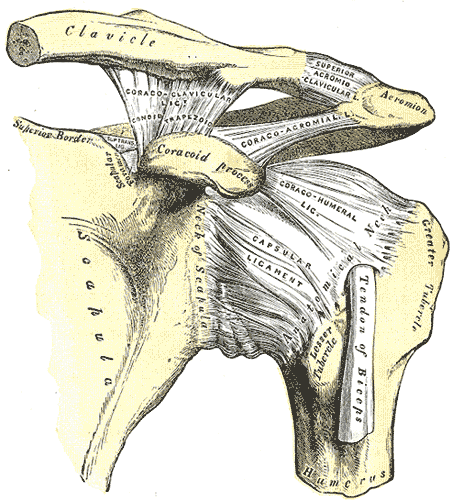 The Shoulder Joint
The shoulder joint is one of the most complex joints in the human body. When we refer to the shoulder we usually mean the glenohumeral joint, which is formed by the head of the humerus and the glenoid fossa of the scapula. We shouldn't forget that for proper shoulder function, coordinated movement of several other joints is necessary. These are:
The sternoclavicular (SC) joint: Clavicle and Sternum
The acromioclavicular (AC) joint: Acromion and Sternum
The scapulothoracic joint: Not a true anatomic joint. Depends on the integrity of the abovementioned joints.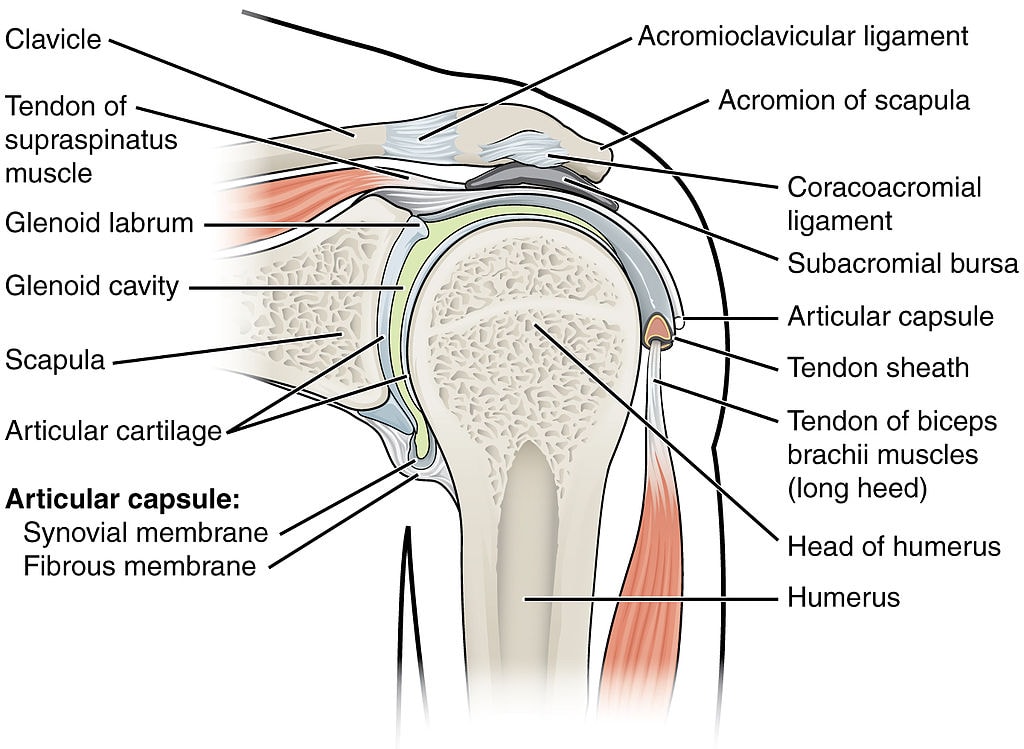 The literature describes the incidence of shoulder pain to be between 0,9 – 2,5%. (31-35y: 0,9%; 42-46y: 2,5%; 56-60y: 1,1%; 70-74y: 1,6%)Shoulder pain is very common with a point prevalence of 6,9 to 26% in the general population. The 1-month prevalence for shoulder pain is described at 18,5-31%, 1-year prevalence ranges from 4,7 – 46,7%, with a lifetime prevalence of 6,7-66,7%. This makes shoulder pain the third most common musculoskeletal complaint after low back and neck pain with cuff-related problems as the most common shoulder injury. In general, the prevalence of shoulder pain is higher in women and increases with age.
Course 
Shoulder pain generally has an unfavorable prognosis with only 30% of patients recovering after six weeks and 54% after six months (Kuijpers et al. 2006). Van der Windt et al. (1996) report a median duration of complaints of 21 weeks.  Luime et al. (2004) report that 50-70% of all patients still have complaints after six months, and 40-50% still experience complaints after one year. The recurrence of shoulder pain was reported to be 20-50%.
Prognostic factors
Verhagen et al. (2014) describe that the following factors are associated with a negative prognosis for recovery:
High pain score at baseline
Long duration of complaints
Insidious onset of complaints
Concomitant neck pain
Impairments in activities of daily living (ADLs)
Psychological factors without further specification
Repetitive movements are described as a factor in work-related shoulder pain
Red flags
Next to the general red flags, specific red flags in the shoulder joint can be:
Region-specific red flags
Tumors in the brain, breast, lung (most often Pancoast tumors), liver, and spine
Infections: History of surgery, open wound, swelling, redness, heat fever
Avascular necrosis: Trauma, Cancer, steroid use/abuse (Gruson et al. 2009)
Tract anamnesis
In general, all tissues irritating the diaphragm can create visceral referred pain in the shoulder
Heart disease/angina: Often sharp stabbing pain in the left shoulder, arm, lateral neck, increasing with exercise; risk factors include: Age>40y, hypertension, diabetes, smoker, high cholesterol, etc.
Respiratory system: Look for impairments in breathing, shortness of breath, dizziness, etc.
Liver cirrhosis (right shoulder): excessive alcohol, family history of liver disease, history of Hepatitis B or C, obesity, jaundice, swollen legs, ankles, abdomen (ascites), feet
Spleen (abscess or rupture can produce left ACJ pain): Kehr Sign –> Pain increases in supine with feet elevated (Söyüncü et al. 2012)
Gall bladder/Cholecystitis (right scapula): Increase in pain after a fatty meal, fever, nausea, vomiting
Peptic ulcer (deep dull pain felt mid-thoracic/scapula): Increases after meals, long-term use of NSAIDs
Apart from red flags, shoulder pain has to be distinguished from referred pain from the cervical facet joints in the neck, cervical myelopathy, or cervical radicular syndrome. So if concomitant neck pain is present, further examination of the neck region should be done in order to rule out the above-mentioned pathologies. In order to learn more about these differential diagnoses, we would like to refer you to the "Further reading" section at the bottom of this unit.
TWO MYTHS BUSTED & 3 KNOWLEDGE BOMBS FOR FREE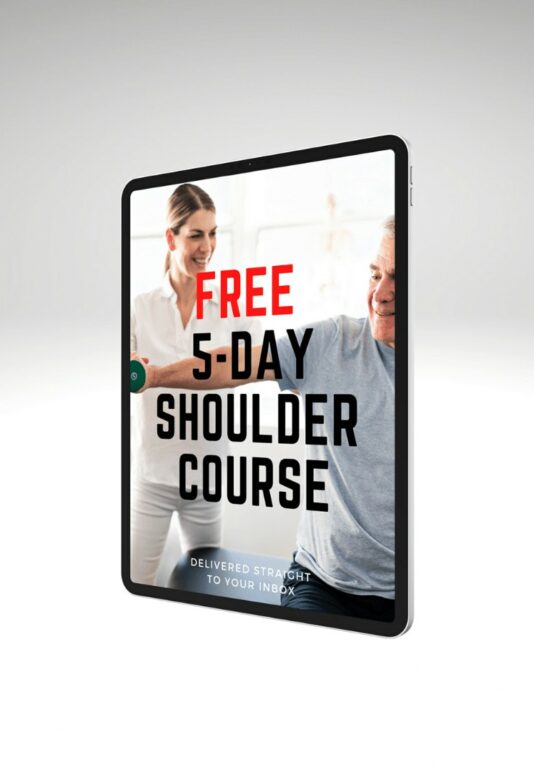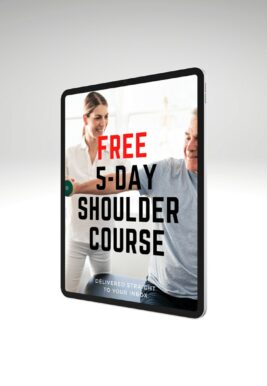 Basic Assessment
Shoulder pain can be roughly divided into three main groups:
Shoulder pain with limited passive range of motion (PROM) and shoulder pain directly related to the glenohumeral joint (Frozen Shoulder or Osteoarthritis)
Shoulder pain without limited PROM, but a painful abduction component (painful arc), usually indicating Subacromial Pain Syndrome (including rotator cuff pathology with or without tendinopathy of the biceps and bursitis)
Other shoulder complaints without limited PROM and without a painful arc (Shoulder Instability, AC or SC Joint Pathology)
In order to divide your patient's shoulder pain into one of those 3 categories, a basic assessment should be performed. It's best to start with an Active Range of Motion Assessment:
Standard values for the range of motion in different directions are as follows: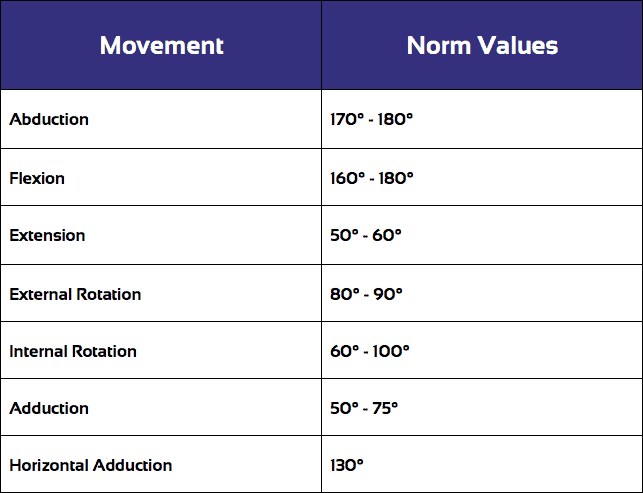 As described in the basic categorization above, it is important to look for a painful arc.
AROM assessment is then typically followed by Passive Range of Motion Assessment (PROM) which you can watch by a click on the following video:
During PROM assessment, it's important to compare the range of motion as well as the end-feel of the affected shoulder with the unaffected side. After AROM and PROM assessment you should be able to categorize the patient into one of the three basic categories for shoulder pain.
Stenvers et al. (1977) have come up with 5 different quick tests in order to assess the mobility of the shoulder girdle.
Specific Pathologies in the Shoulder
There are several pathologies that are commonly seen in the shoulder area. For more information, click on the respective pathology (content will be added in the near future):
Rotator Cuff Tear
Full-Thickness Rotator Cuff Tears
Scapular Dyskinesis
Subacromial Pain Syndrome
Internal Shoulder Impingement
Shoulder Instability
SLAP (Superior Labrum Tear from Anterior to Posterior) lesion/Biceps Tendinopathy
Acromioclavicular Joint Pathology
Frozen Shoulder
References
Baertschi E, Swanenburg J, Brunner F, Kool J. Interrater reliability of clinical tests to evaluate scapulothoracic motion. BMC musculoskeletal disorders. 2013 Dec;14(1):315.
Cook CE, Wilhelm M, Cook AE, Petrosino C, Isaacs R. Clinical tests for screening and diagnosis of cervical spine myelopathy: a systematic review. Journal of Manipulative & Physiological Therapeutics. 2011 Oct 1;34(8):539-46.
Cooper G, Bailey B, Bogduk N. Cervical zygapophysial joint pain maps. Pain Medicine. 2007 Feb 12;8(4):344-53.
Gruson KI, Kwon YW. Atraumatic osteonecrosis of the humeral head. Bulletin of the NYU hospital for joint diseases. 2009 Jan 1;67(1):6.
Kuijpers T, van der Windt DA, Boeke AJ, Twisk JW, Vergouwe Y, Bouter LM, van der Heijden GJ. Clinical prediction rules for the prognosis of shoulder pain in general practice. Pain. 2006 Feb 1;120(3):276-85.
Luime JJ, Koes BW, Hendriksen IJ, Burdorf A, Verhagen AP, Miedema HS, Verhaar JA. Prevalence and incidence of shoulder pain in the general population; a systematic review. Scandinavian journal of rheumatology. 2004 Mar 1;33(2):73-81.
Söyüncü S, Bektaş F, Cete Y. Traditional Kehr's sign: Left shoulder pain related to splenic abscess. Ulusal travma ve acil cerrahi dergisi= Turkish journal of trauma & emergency surgery: TJTES. 2012 Jan;18(1):87-8.
Van der Windt DA, Koes BW, Boeke AJ, Deville W, De Jong BA, Bouter LM. Shoulder disorders in general practice: prognostic indicators of outcome. Br J Gen Pract. 1996 Sep 1;46(410):519-23.
Verhagen A, Alessie J. Evidence based diagnostiek van het bewegingsapparaat. Bohn Stafleu van Loghum; 2014 Nov 6.
Wainner RS, Fritz JM, Irrgang JJ, Boninger ML, Delitto A, Allison S. Reliability and diagnostic accuracy of the clinical examination and patient self-report measures for cervical radiculopathy. Spine. 2003 Jan 1;28(1):52-62.
Like what you're learning?
Follow a course
Learn from wherever, whenever, and at your own pace
Interactive online courses from an award-winning team
CEU/CPD accreditation in the Netherlands, Belgium, US & UK
Online Course
How to Boost Your Knowledge about the 23 Most Common Orthopedic Pathologies in Just 40 Hours
ENROLL IN THIS COURSE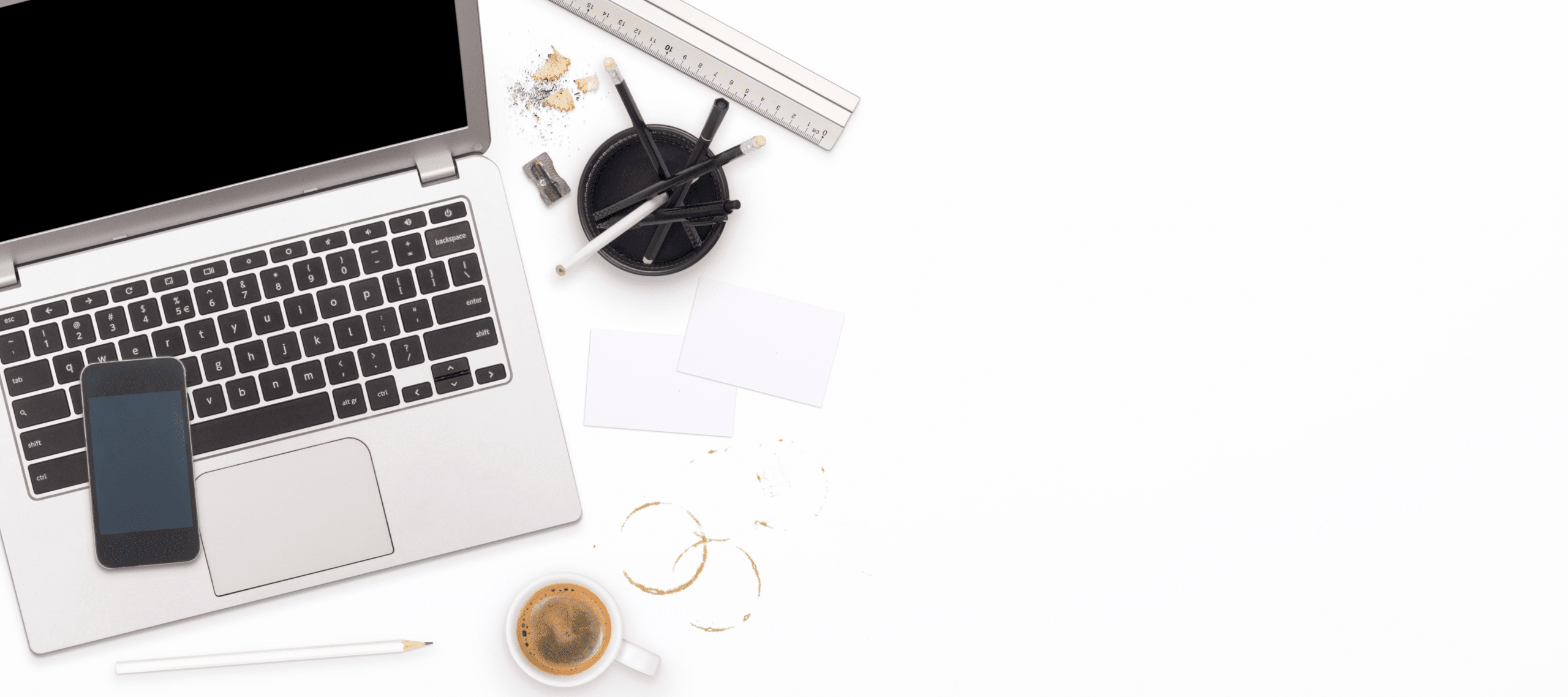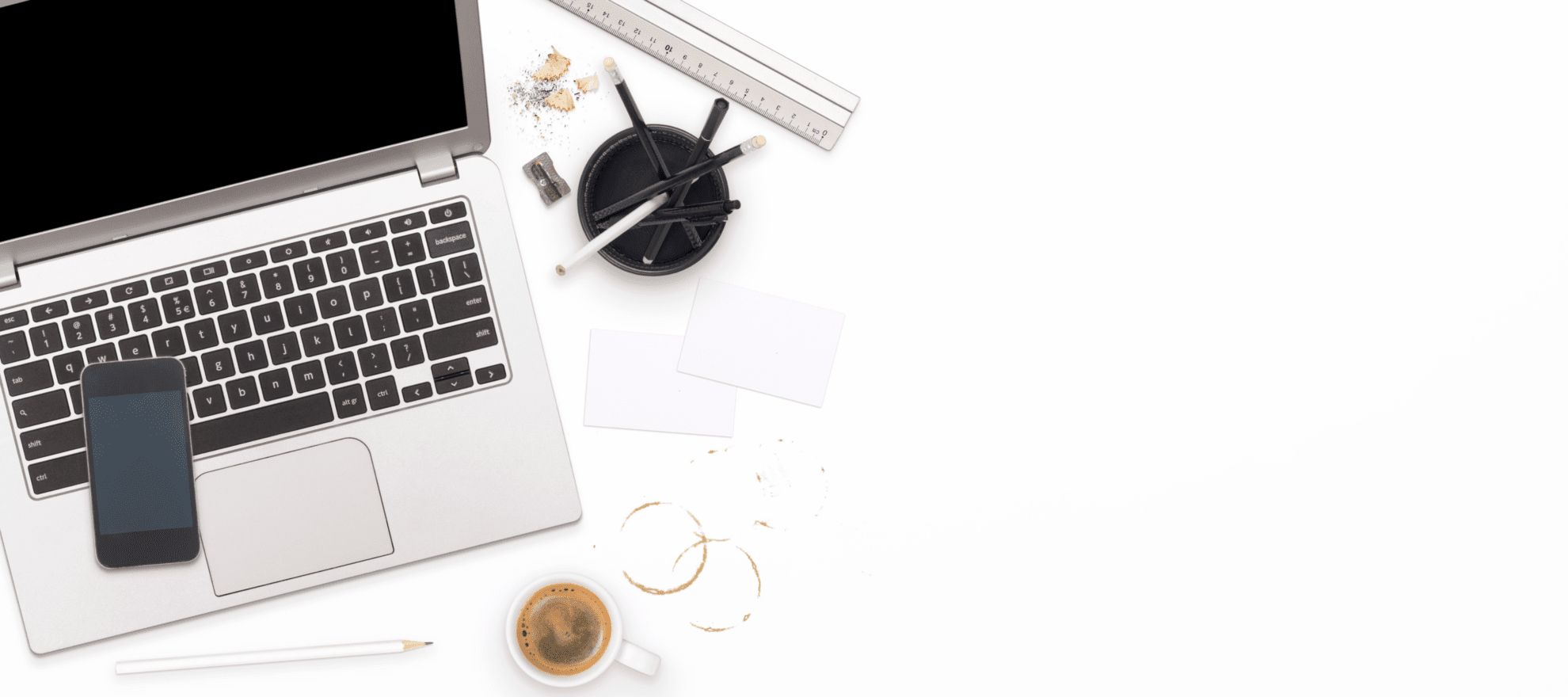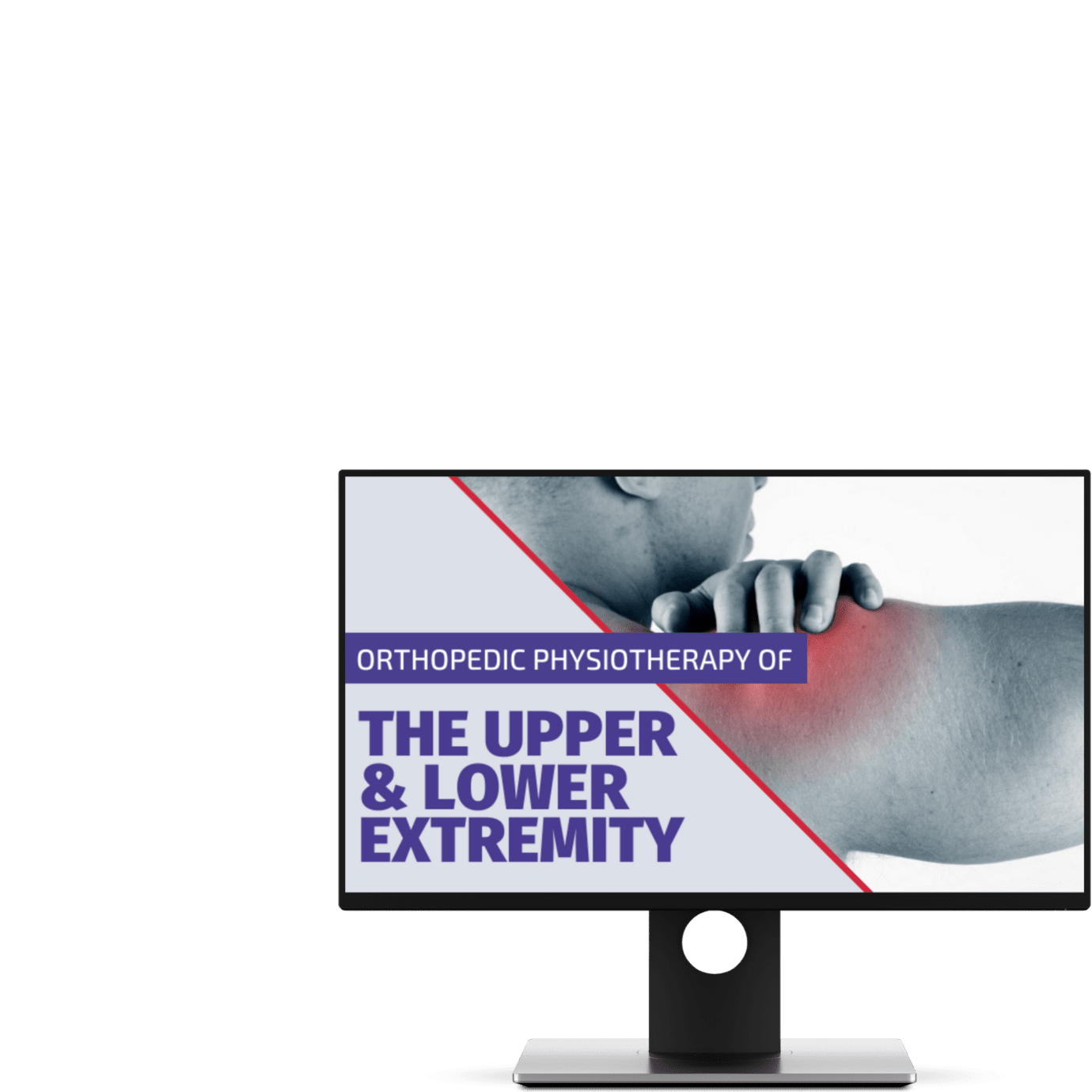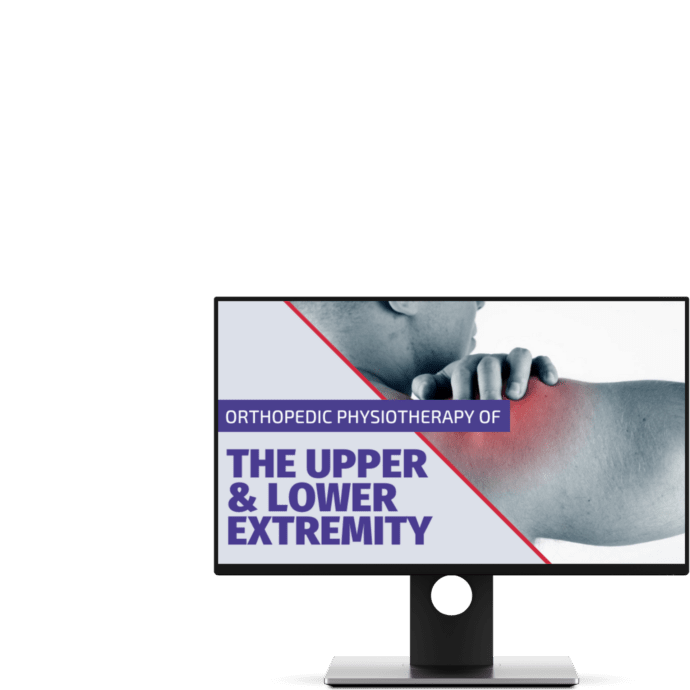 Reviews
What customers have to say about this online course